For me spotting the King of Jungle was limited either to National Geographic or Animal Planet for many years. The mere presence of this majestic mammal on the wide LED screen overwhelmed me and often gave me goosebumps. Subsequently, it became a routine to spot them on the television as a source of entertainment, until one day I read about Gir National Park, which is a natural habitat for these Asiatic lions. Gir forest is the only place after Africa where one can spot these incredible species that are considered endangered, however, a lot of measures were taken by the Gujarat Forest authorities to protect them from getting extinct.
My trip started from Diu, heading towards the only abode of Asiatic Lions in India. The drive was nothing less than a roller coaster ride, zipping through the roads of Gujarat and ditching traffic at 7.00 in the morning. The December early morning weather felt like a breath of fresh air, the tiny droplets on the grass, birds chirping in the background, trees moving with the breeze were a sight to behold. After shredding a lot of energy singing and laughing all through the way, I felt a sudden hollowness in my tummy and it seemed like ages that I had eaten anything. Alas, after coaxing everyone we took a small halt to refuel the car and our tummy.
Even as the cold was getting too harsh on us, we smartly sneaked into a warm shed of the Tea hawker. After gulping down few sips of heavily loaded ginger tea, greed to absorb the Natural Vitamin D lured us to step out. With open arms glancing at the sky, I tried to emulate Kate Winslet from Titanic. Grabbing a quick bite of steaming hot idly and dosa, we quickly got back onto our cars focusing on our goal to reach Gir well on time.
Upon reaching, we had to present our permit to the authorities, so that they could validate it further. After a while, we were directed to a chic-looking Jeep, which had GIR SAFARI written in bold letters. A sudden flashback of National Geography episodes brushed my mind and filled my heart with flutters. In no time, we were up on the Jeep, ready for the most awaited Lion Safari.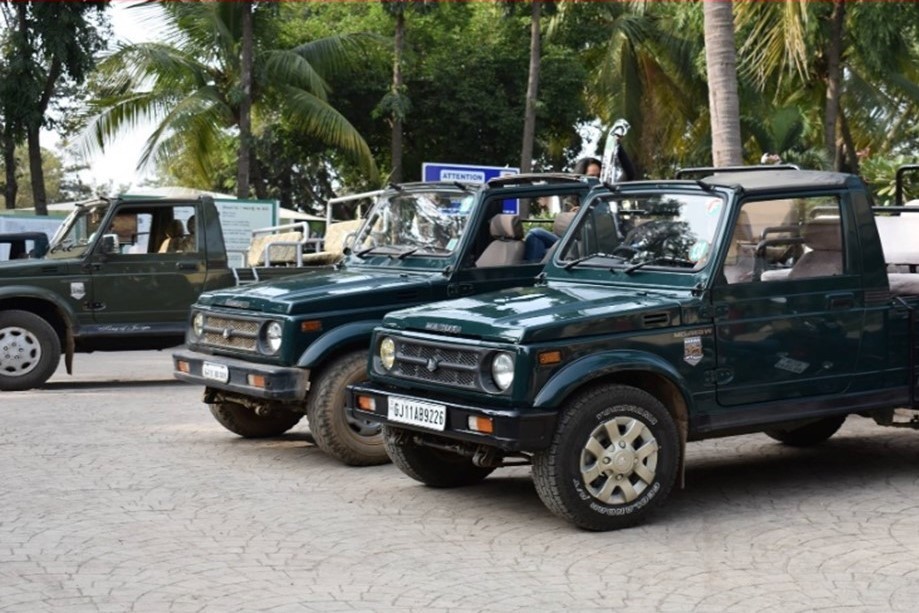 The guide turned on the engine, the wheels started rolling and a flag-like cloth on the back started fluttering rapidly. As soon as we entered inside, the uncontrollable breeze made it difficult to even open our eyes. Heavy wind and extreme cold made us take support of multiple layers of winter wear. After settling in with the cold temperature, we finally managed to look at the wide expanse of the forest.
Gir forest is a dry deciduous forest spread across 1412 sqkms. While the big cat remains the prime attraction of this park, the entire landscape has so much to offer its tourists. Rich in biodiversity, there are leopards, foxes, sloth bears, hyenas, jackals, mongoose, civets, etc. that can be spotted very easily on the way to your safari. Besides these chital, nilgai, sambar, deer's, antelope, chinkara, and reptiles have also made Gir their abode. Somewhere nearby the forest guard also spotted the marshy crocodile breeding farm which the Gujarat Forest Department has undertaken as a Conservation Project.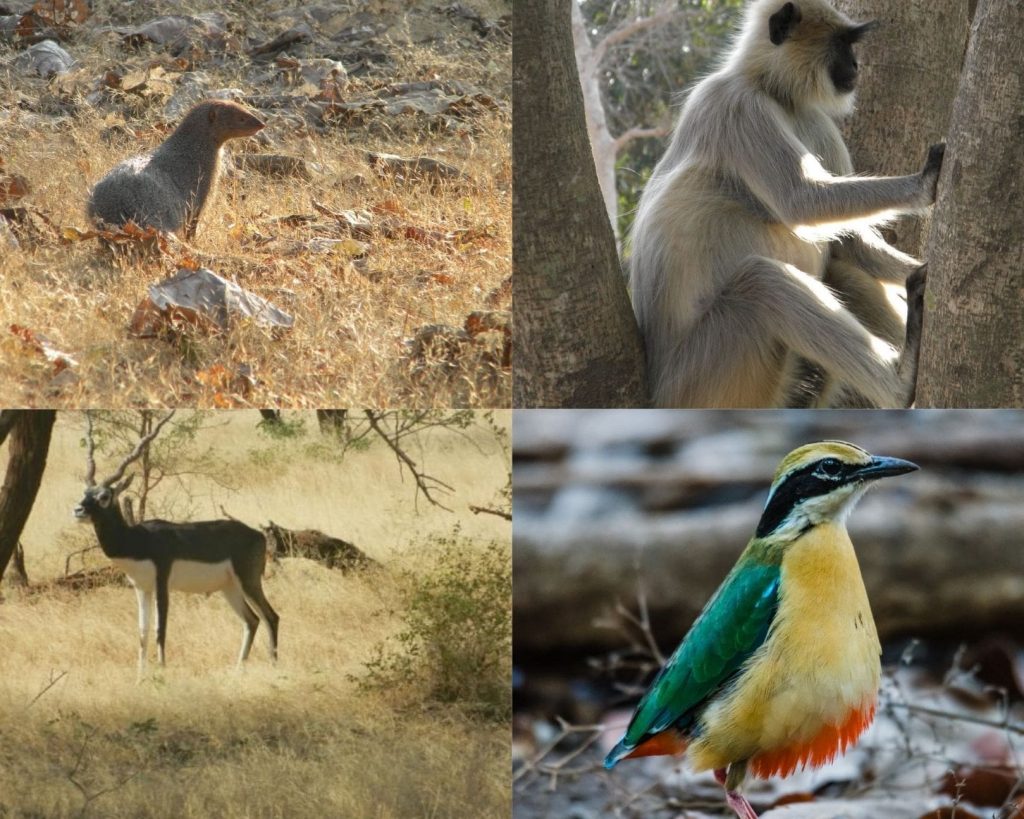 As we drove quite inside the forest, a family of monkeys waiting for us to offer them a snack welcomed us. On the left, a herd of deer engrossed munching on their fodder and a fawn feeding on her mother was a satisfying sight. In a flash of a second, we noticed a pin drop silence for a couple of minutes. Monkeys and langurs became jittery, deer started giving alarm calls, birds started chirping and there seemed to be tremors around that territory.
Sudden break on the jeep, the screech of the wheels made us skip a beat for a moment. Our guide swiftly took his walkie-talkie out and started murmuring with the authorities. Looking at his gesture and body language we guessed as much that the mighty creature must be somewhere around. Sitting quietly holding our belongings firmly, we waited patiently. In about 7-8 minutes, our eyes popped out when we saw a huge lioness walking calmly and freely along with her cubs across the road. Just behind them came the King of Jungle, which was the icing on the cake. This incredible creature looked like the eighth wonder to us, his golden hair, mighty body, graceful walk; loud groan gave goosebumps and made our heart flutter rapidly.
Unperturbed by the presence of humans, the family of the most iconic breed of Lion disappeared in the dry bushes of Gir, making this one of our most cherished moments of life. With the efforts of Gir forest authorities, the population of this extinct species has risen from 523 in 2015 to 624 in the 2020 census.
Location:
Gir Forest is located in Sasan in Junagarh district, Gujarat
How to reach:
Flight: Diu, which is 100km from Sasan or Ahmedabad, which is 350 km
Rail: Nearest railway station in Sasan, which is, 60Kms. Travellers can also reach Rajkot and then take a taxi from there Road: One can even drive down from Rajkot or Ahmedabad, which is very convenient
When to visit:
The weather during winter i.e. November to February is cool and pleasant and due to this the safari ride will be comfortable. However, the apt time to spot Asiatic Lion is summer as the weather is hot and the animals normally come outside in search of water
Where to stay:
Travellers can choose from variety of hotels and resorts in Gir. The Fern Gir Forest resort, Gir Safari resort, Asiatic Lion lodge, Gir Jungle lodge, Amidhara Avezika resort
Do drop in your comments if you liked the blog and if you want to share your experience. Also if you have any more suggestions on the trip, stay etc., pl do comment below so that it helps others travelers also