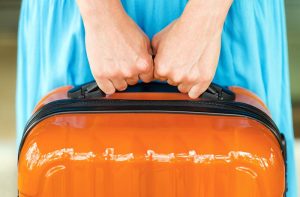 If you're packing for a trip, it can be tricky to try and remember everything you need. When you're flying, it's important to have a strategy in case your luggage gets lost, which happens all too often these days! Lost luggage is so frustrating, especially if it takes a couple of days to arrive or you are moving on to a destination that is away from your arrival airport.
Rest assured, if you pack your carry-on with essential items, you will be less stressed if your luggage goes missing for a day or two.
What to pack in your carry on? Here are some key things to take with you on the plane!
Glasses and contact lenses
If you aren't wearing your glasses already, be sure to take them with you in your carry on. Also, pack your contact lenses and case including extra pairs if you use disposables.
Sunglasses
It's important to protect your eyes and, especially for sunny destinations, you'll be happy you have your sunglasses handy when you walk out of the airport!
Clothes
If your clothes are packed away in luggage that doesn't arrive, you'll be happy to have some extra clothes packed in your hand luggage. Have at least two easy outfits that will work for exploring your destination.
Underwear and extra socks
If the airline loses your luggage you'll still want some clean underwear to change into. They don't take up a lot of room and you'll be happy you have them!
Shoes
Bring a pair of shoes to change into if you don't want to spend the next day or two walking in the shoes you wore on the plane. For warm climates, you'll likely want to pack your sandals or flip flops in your carry-on.
Medication
Be sure to bring your go-to pain medication such as Tylenol or Advil and any prescription meds you are currently taking.
Toothbrush
A toothbrush doesn't take up a lot of room in your hand luggage. If your suitcase gets lost, you'll appreciate still being able to brush your teeth after a long travel day. Better yet, take along a travel sized tube of toothpaste too!
Deodorant
Long days of travel and overnight flights can leave you feeling less than fresh. A travel sized deodorant will help fend off unwanted odors!
Hand sanitizer or wipes
Airports and planes are known for being the germiest public places. Stay healthy by keeping hand sanitizer and wipes handy in your carry-on luggage.
Makeup
For the ladies, remember to take the makeup items you can't live without in your carry-on or purse! Whether it's concealer, powder or your favorite lipstick, you'll feel much better knowing you have them with you instead of tucked away in the suitcase that accidentally went to a different country! Sephora has a great selection of travel sized makeup products.
Chapstick
The air is so dry on a plane and having lip balm or chapstick handy will keep your lips moisturized.
Important documents and money
Don't forget to pack your passport, ID, credit cards and money in your carry-on. Stay organized with a handy travel case or passport wallet that can keep it all in one spot.  
Electronics
Remember to take your phone or tablet in your carry on. Don't forget your headphones!
Sleeping mask and neck pillow
For those long haul or overnight flights, you'll be much more comfortable with a travel sleeping mask to block out unwanted light and neck pillow to take the edge off those uncomfortable airplane seats!
Chewing Gum
Gum helps with plugged ears and painful popping on take off and landing.
Knowing you have these important and helpful items in your carry on will help keep you feeling at ease when you are traveling. Ask any traveler about the time the airline lost their luggage and you will hear how much stress it caused when they didn't have a back-up plan!
Every airline has different rules for carry on luggage weight and restrictions. 

Travel and Leisure has this great cheat sheet for carry on size and weights for many airlines. 

You should still be able to fit all of these items if you strategically pack them. The most important tip is to look for things that are lightweight and travel sized!