Dramatic looking hills, clear skies, breathtakingly beautiful lakes and the thrilling high altitude passes, Ladakh is truly a natures wonder.  Located at an altitude of more than 3000 mtrs above sea level, Ladakh is a perfect amalgamation of leisure and adventure activities. The warm Tibetan, Indian and Buddhist culture will embrace you in such a manner that you will thank Almighty for creating this paradise on earth. Small glimpses of this can be seen as your aircraft starts approaching the airport. The view of rugged mountains some of them laden with snow, might seem so close yet so far, will surely drive you crazy. Apart from being an adventure destination, Ladakh is also a land of Buddhist pilgrimage. The artistically built stupas and monasteries are rich in history and an epitome of architecture. Read further to know more about the places to visit.
Travel period: Ideal time to visit is between April-September. Post September the temperature starts dipping and winters sets in officially. Travellers who can sustain extreme winter temperatures can make the most of the frozen lakes   
How to travel: Leh has good connectivity by air and by road. The army operated airport is small and surrounded by incredible looking hills.
Bikers can take the Leh-Manali highway and witness the stunning beauty across the roads.
Tip:
1) Get a medical check up done before planning Leh holiday
2)
Get yourself acclimatized with the high altitude for minimum one full day
3) Carry prescribed medicines if any. Inhaling camphor balls will help during high altitude pass
4)
Leh has network issues. Only post-paid connections work and more so only  Airtel and BSNL
If there is one place which shall get etched on your minds for lifetime, it definitely is Pangong TSO. The amount of time you spend here will make you feel in a dreamland. Cradled between India and China, this is the highest saltwater lake in the world stretching almost 160kms. The lake surrounded by rugged mountains look no less than a postcard image making it one of the most popular tourist attractions of Ladakh. The crystal clear water keeps changing colour to turquoise, sky blue and even grey, making it a favorite place for photography. Close to the lake there are various camps and cottages, where you can spend the night and enjoy the pleasant weather. Not to forget the lake gained popularity after the Bollywood movie 3 Idiots climax was shot here.
      1)

Travelers planning to explore on their own, need to take permits before planning trip here
      2)

People sensitive to extreme weather need to book cottages instead of tents, as they get quite cold from inside in the night  
      3)

Pangong starts closing down towards the end of September due to severe cold. Travelers can visit the lake after September,          however there would not be any stay arrangements
      4)

The lake freezes completely during January and February. Adventure enthusiasts can explore ice skating on the lake
      5) T
here is very limited or no phone connectivity here. Therefore carry your own set of entertainment 
A remote village located at a distance of 150kms from Leh, Nubra is one of the must visit places of Ladakh. Surrounded by rugged looking mountain ranges, Nubra offers breathtaking views of the vistas and the journey through the highest Khardungla pass is simply unbelievable. Nubra valley is a high security zone as it is close the Line of Control, therefore Indians and foreigners need permit before travel. Summers add up icing on the cake like atmosphere here.  While the weather is just perfect & welcoming, the views of colourful spread of flowers here will surely make your day. As you descend from Khardungla visit the larger than life and almost 100ft tall Diskit monastery and witness the panoramic views of vistas. As you precede further small glimpses of Hunder, the sand dunes of Nubra will fill your heart with excitement. Take a stroll here in the evening along a double humped Camel Safari. 
1) 

To avoid rush, visit during September and October and benefit yourself with good stay deals
2) Nubra is the best place to get yourself acclimatized as at is at a lower attitude as compared to Leh
3) From here vi
sit Turtuk village and see the amazing spread of apricot trees
"I am feeling top of the world". We say this quite often, but how often do we get to experience this? Ladakh's one of the most thrilling places Khardugla pass is claimed to be the world's highest motor able road in the world, which is located at an altitude of 5359mtrs from the sea level. It acts as a gateway to Nubra and Shyok valleys and an important pass into the Siachen glacier. The journey up there is undoubtedly thrilling and exciting, however the meandering roads and top of world view may give you cold feet. Once you are up there, the view of snow clad mountains, artistic landscape and pleasant cold weather will fill your heart with excitement. Basic arrangements like mobile lavatories, cafeteria and emergency health care service is arranged and managed by army personnel. Don't forget to get yourself clicked next to the famous Khardungla photo board and capture the stunning views around.
1) 
Khardungla is accessible by road from May to October, though September and October the weather remains very cold. Post October the road remains shut due to heavy snowfall
2) 
Carry Daimox tablet to overcome acute mountain sickness and keep consuming plenty of water
      3) 
It is advisable to spend only minimum time up there due to less oxygen level and move on to Nubra valley 
      4)

Avoid drinking and smoking
Magnetic hill: 
Newton's physics has always taught us that gravity pulls you down, however the theory seems to defy in Ladakh's Magnetic hill. Surrounded by majestic looking hills this magnetic hill is a road close to Leh which is marked by white box and written 'Park your vehicle here'. Moment you park your car inside in neutral mode you will see the car moving uphill @20km/hr. Few locals believe that it is the magnetic force which pulls the car up and due to this even aircrafts travelling on top increases its altitude when passing from this point. The fact is, it is due to the optical illusion formed by the hills which obstructs the horizon. The place is often thronged by tourists to check this phenomenon, making it one of the popular tourist's attraction of Leh. 
This is one of the iconic monuments which is located close to the Leh city. Constructed by
a Japanese Buddhist as a mark of peace, the stupa is an epitome of architectural beauty. Since it is located on a hill top, you may get short glimpses of the white dome like structure from a distance which surely will leave you spell bound. The stupa offers panoramic views of the entire city, followed by hills in the backdrop surrounding the city in a circular form. The beauty stands out multi fold when the stupa gets illuminated in the night making the entire place look magical. Definitely worth the visit!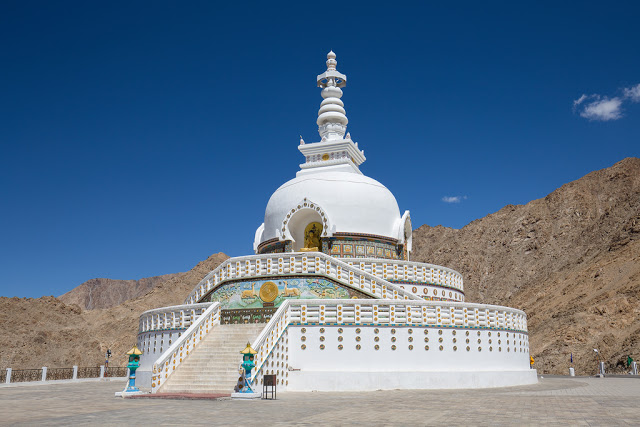 Tso Morini is another high altitude lake located in the Changthang area of Leh which stretches upto 28km in length and approx. 6-7kms in width. Officially it is the only high altitude which is completely under India. After a drive/ride of 250 kms from Leh, as soon as you arrive close the lake, the picturesque view of blue coloured lake surrounded by lofty mountains will look like breath of fresh air. The various shades of blue and the mountain reflection in the waters will be a sight to behold. Tso Morini is located on a wetland reserve, therefore putting up tents close to the bank is not permitted. To sum up get all your cameras and mobile phones out to capture this insanely beautiful place and start updating all your DPs, only to get hundreds of Thumbs Up.
Points to remember:
1)
Tso Moriri is at very high altitude, therefore proper acclimatization is required before visiting
      2)

Since the place is quite remote, carry enough essentials as it becomes very difficult to fetch necessary things
      3)

Very limited cottages and tents are available for stay here
     4)

Due to very harsh weather conditions, the accommodation tends to pack up post September and the lake remains frozen between Jan-March
5)It gets less number of tourists as compared to Pangong  
On the way to Nubra Valley, a huge gigantic effigy of Lord Buddha settled on a hill top will grab your attention and that too with such an extent that its make and beauty will leave you spell bound. One of the most popular tourist attractions, Diskit is the oldest and largest monastery of Ladakh. Overlooking the Nubra valley and facing the Shyok River, the 100 ft tall statue of Maitreya Buddha was inaugurated by Dalai Lama in order to promote world peace. The viewing deck close to the statue provides scenic panoramic view of the Nubra valley. The monastery has various rooms including a school for Tibetan kids and a prayer hall. While the road leading to Diskit may look rugged and arid, you will notice a spread of green vegetation close to the monastery. It truly feels blissful and peaceful after visiting the monastery. 
TIP:
1) You can visit Diskit either while going to Nubra or while returning from Nubra as it comes on the way 
Leh has many other beautiful and scenic monasteries which can be a part of your itinerary. Some of them are Shey Palace, Likir monastery
, Spituk Monastery, Alchi Monastery and many more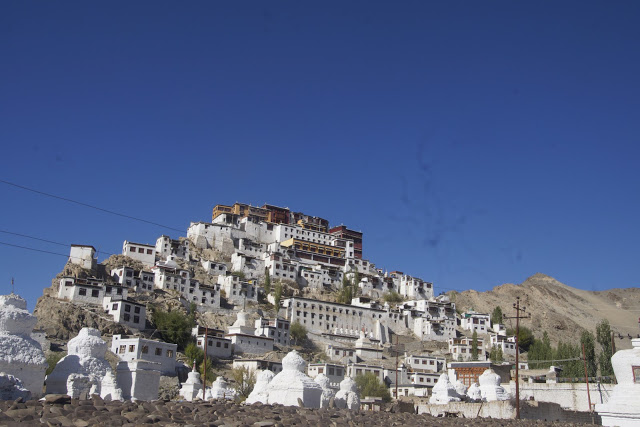 Thrill seekers pull up your socks and get ready for yet another exciting ATV ride here in Ladakh. The vehicle which runs mostly on deserts and snow gives an unforgettable experience. The ride typically extends upto 15mins to 1 hour, which has a mix of plain and bumpy desert. The ride does not require any driving experience or license. Just get on those bulky looking vehicles and boast it by clicking cool pics and sharing it on your social media handles. 
TIP: 
1) It is recommended to take ATV ride on the way to Nubra valley as it has a wide expanse and most importantly they allow couple rides 
The other monasteries which could be of your interest are
Ladakh is not only about hills, mountains, snow, lakes and adventure it also provides great shopping experience to its tourists. The Tibetan market in the Leh city has incredible collection of antique jewelry, clothes and souvenirs. The best part is the pashmina shawls and Tibetan prayer wheel which can become an ideal gift for your near and dear ones. 
After spending 5-6 days in Ladakh, if you still have the time and stamina left you can combine th trip with Kargil and drive down there which is 200 kms from Leh and is famous of the Kargil war and now the war memorial. 
Hope this blog helps you in planning your next Ladakh tour. Do write to me for any queries and to know the day wise itinerary