The state of Maharashtra offers almost everything what a tourist or a holiday goers would want. Be it historical sites, amazing beaches, hill stations, pilgrimage sites, good infrastructure, transport etc. Amongst all these the state is blessed due to its coastal belt which enhances the beauty of the Kokan region. Bordered by the Arabian sea Maharashtra has quite a few beautiful beaches which can be explored as one of your holiday destination. 
1) Ganpatiphule: The beauty of this beach is the pilgrimage and lush green mountains surrounding the beach. The beach has a Lord Ganesh temple on the shores which is said to be a Swayambhu. The beach offers spectacular views and blue waters, which makes it the most preferred beach in the Kokan region. It is also know for its flora and the mangroves around it.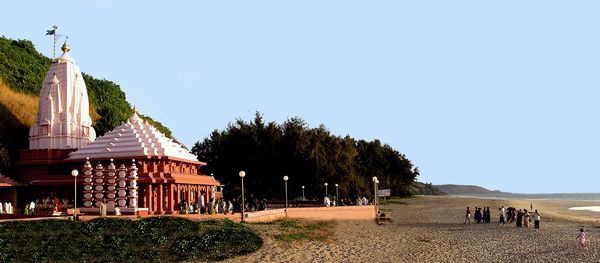 TIP for accommodation: MTDC beach resort is the best place to stay. You can also get accommodation in the standard hotels in and around the beach. 
2) Tarkarli Beach: Tarkarli is a small town close to Malvan in Kokan. Yet another beach which is famous among the tourists. The specialty of this beach is its adventurous water sport activities. Be it snorkeling to scuba diving to para sailing and at times occasional sites of the Dolphins Tarkarli has it all. You can also witness the traditional malvan culture in the city.
TIP: Explore the local Malvani cuisine which comprises of delicious sea food. Don't forget to try the the 'Solkadi' a famous Malvani (coconut extract) drink which relishing the food. 
3) Harihareshwar: Another beach which combines serenity with spirituality. The beach has a lord Shiva temple on the shores. An evening on the sea rocks which will simply make you absorb the beauty of the nature. This beach is in the Ratnagiri district. The holy river Savitri divides between Raigad and Ratnagiri. You can take a ferry across the river to visit the fort 'Himmatgad'.  
4) Dahanu beach: Dahanu is in the border of Maharashtra & Gujarat. The beach is quite serene and uncluttered. Unlike other beaches this is not very commercialized hence a family outing here surely makes sense. The city is famous for Chikku farms and the area is also ideal for camping. 
5) Juhu Beach: When it comes to the beaches of Maharashtra, Mumbai surely cannot be missed. One such beach is Mumbai's very famous Juhu beach. It definitely makes sense to visit this beach to enjoy witness the evening atmosphere. The place buzzes with tourists and localities. You can visit near by restaurants and pubs to spend the rest of the evening.
Maharashtra being a coastal belt has many beaches open for tourist attraction. However I have listed very few which you can consider in case you plan a holiday in the near by areas. Keep reading this space for more such destinations.